Charleston, South Carolina- Oh, I have so much to say about you! ('ll author an additional entry on the aura of Charleson later!)... what a city of charm that captured my heart! And, on that note, I thought I would commence with a classic American love story.... The Notebook! Let's face it, what journey to Charleston would be complete without submerging oneself in Nicholas Sparks' 1940s romance?
Site # 1: The American Theater, 446 King Street- Charleston, South Carolina: The site of Noah and Allie's first date. Art Deco architecture complete with vintage exterior marquee!
Site # 2: Boone Hall Plantation: Mt Pleasant, South Carolina- Allie's parents' summer home. In the film, Noah is seen driving up the Avenue of Oaks (pictured far below), before walking up towards its front gates (immediately below). Boone Hall Plantation is something special- founded in 1681, it is one of America's oldest working plantations. The home originates from the early 19th century and nine of the original slave cabins still exist- it was amazing to walk 'into' history! But more on the history in a later post...
Site # 3: The Traffic Light scene! #Nowordsneeded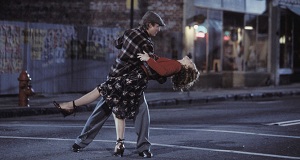 Site # 4: Calhoun Mansion: We toured the interiors of this amazing Gilded Age home. With its Italianate architectural style, you WILL feel like royalty the moment you step in behind closed doors. With its 35 rooms and 24,000 sq ft interior, it's no wonder Calhoun Mansion is the largest private residence in all of Charleston. The interiors of this home were utilized for the film. We weren't allowed to shoot any interior photography, but viewed several rooms (including the dining room shown below) and walked up the very stairway where Allie was seen (shown below). The encompassing gardens are stunning, but the interiors are breathtaking. I've never seen so many imported international luxury furniture & finishes within one space! The beauty is in the detail- look closely and you'll see custom (and labor intensive!) wood, beautifully finished plaster, and etched crown molding.
Site # 5: High Cotton at 199 East Bay Street. This restaurant is home of the scene in which Noah looks through a restaurant window and finds Allie dining inside with her fiance Lon.